Body
Organic Lemon Ginger Menthol 4X Herbal Salve (1200mg CBD)
Sale!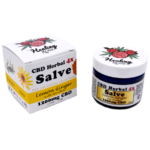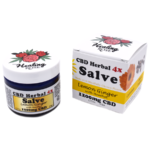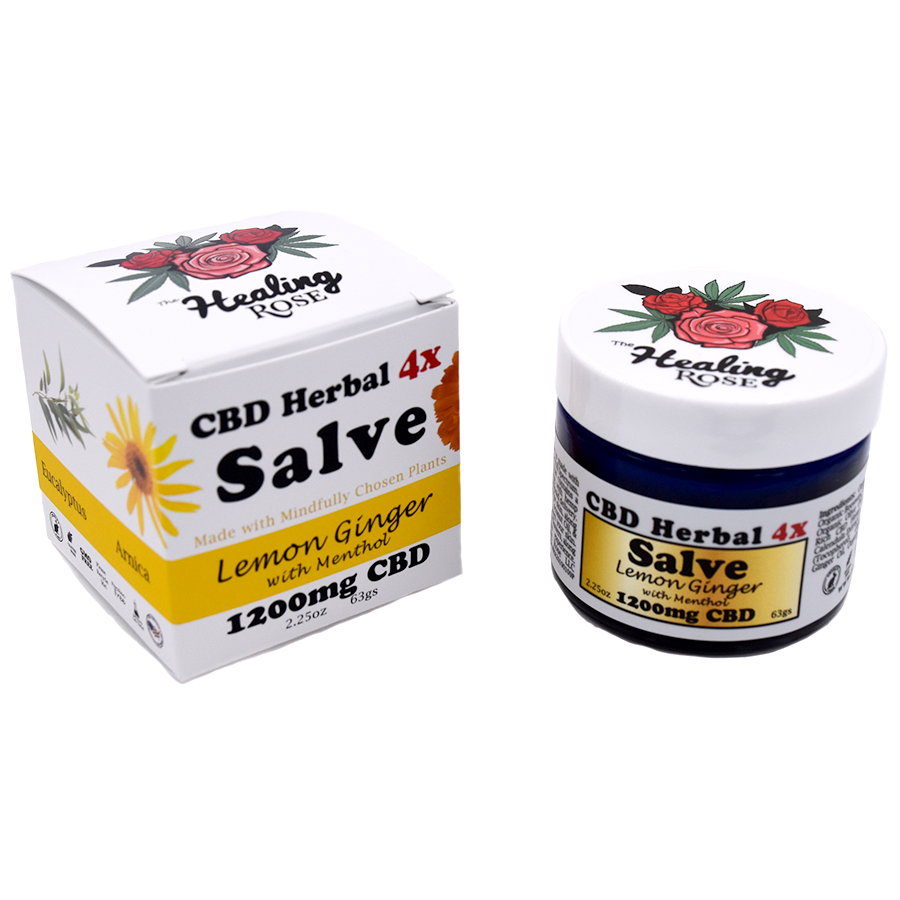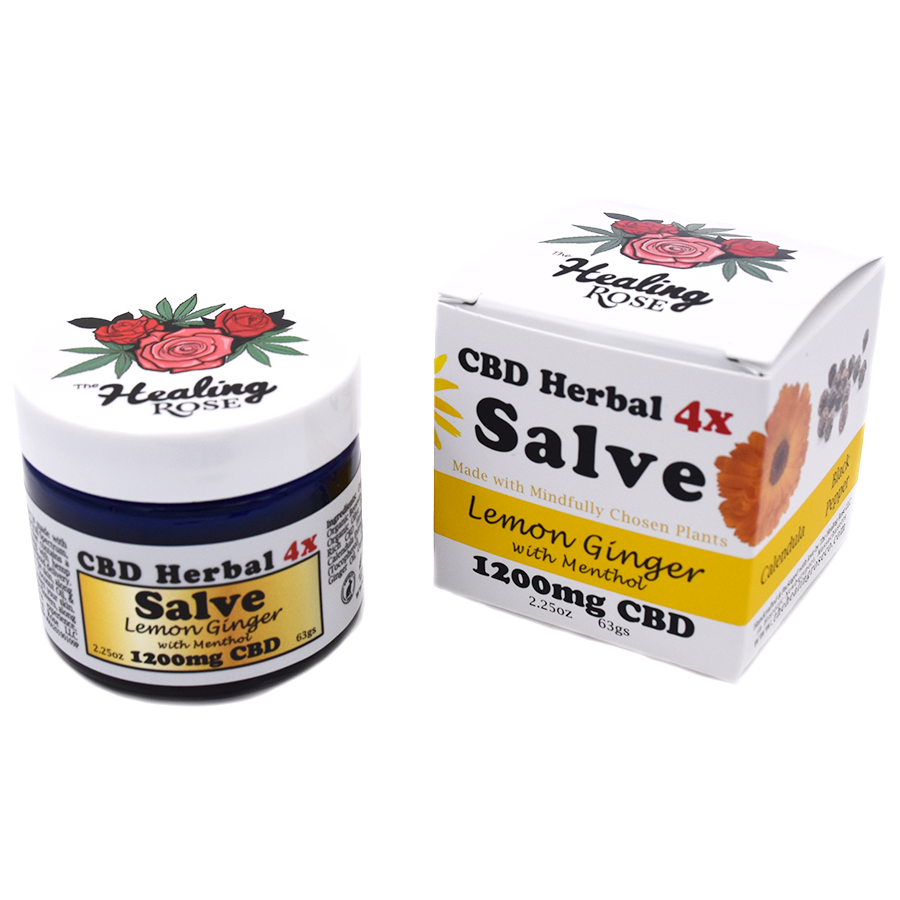 #1 Best Seller!
Body
Organic Lemon Ginger Menthol 4X Herbal Salve (1200mg CBD)
$80.00
Made with 15 Mindfully Chosen Ingredients
1. Organic Shea Butter
2. Organic Coconut Oil
3. Organic Beeswax
4. Organic Mango Butter
5. Organic Jojoba Oil*
6. Organic Olive Oil*
7. Organic Full Spectrum CBD CO2 Extract
8. Organic Arnica Extract
9. Organic Calendula Extract
10. Organic Menthol
11. Non-GMO Vitamin E Oil
12. Organic Eucalyptus Globulus Oil
13. Organic Ginger Oil
14. Organic Black Pepper Oil
15. Organic Lemon Oil

*Indicates an Unrefined Oil

Support Your Body with a Powerful, Cooling Blend of Restorative Botanicals
Our Most Popular Product! Our Lemon Ginger CBD Herbal Salve is made with mindful purposefully chosen ingredients. We use 100% certified organic carrier oils, essential oils, butters, waxes, & herbs that are responsibly sourced. We use a powerful combination of botanicals: Arnica, Calendula, Menthol, Ginger, Eucalyptus, Black Pepper and Lemon along with 1200mg of CBD from a full spectrum CBD hemp extract. 
We encourage everyone to do their own independent research on each of our ingredients and their benefits. We handcraft our salves in small batches to ensure a perfect consistency. It feels amazing on your skin and smells wonderful. This formula has a delightful lemon ginger scent with hints of eucalyptus & black pepper that may have you feeling nostalgic. We use a gentle concentration of menthol that may be mildly cooling.
Ingredients
Organic Shea Butter (Butyrospermum Parkii), Organic Coconut Oil (Cocos Nucifera), Organic Beeswax (Cera Flava), Organic Mango Butter (Mangifera Indica), Organic Jojoba Oil* (Simmondsia Chinensis), Organic Olive Oil* (Olea Europaea), Organic Arnica Extract (Arnica Montana), Organic Calendula Extract (Calendula Officinalis), Organic Full Spectrum CBD CO2 Hemp Oil (Cannabis Sativa L.), Organic Menthol (Mentha Arvensis), Non-GMO Vitamin E Oil (Tocopherol), Organic Eucalyptus Oil (Eucalyptus Globulus), Organic Ginger Oil (Zingiber Officinale), Organic Black Pepper Oil (Piper Nigrum), Organic Lemon Oil (Citrus Limon)
*Indicates an Unrefined Oil
Why choose a menthol salve?
Menthol offers some fantastic benefits. It's a natural oil derived from mint based plants like spearmint and peppermint – so it brings with it a refreshing, cooling sesnation. Most commonly used in toothpaste for that minty fresh taste, Menthol is also a popular ingredient in muscle rubs and healing salves thanks to its therapeutic properties. It's typically used for relief from aches, soreness, and inflammation.
What benefits does menthol offer?
The cooling sensation that comes with menthol alleviates soreness & inflammation as well as congestion. Menthol is a common ingredient in muscle freezes and other lotions or products used for post workout, but it's also commonly used as a nasal decongestant.
Each Salve comes with a reusable applicator to make using the product quick and easy.
Suggested Uses:
Premium Self Care for Joints & Muscles
Workout & Exercise Support (Pre & Post)
Directions
Use pea-shaped amounts on desired areas 1-3 times a day or as needed. Massage into skin and allow oils to absorb. Adjust amount and frequency based on experience. For best results, use daily as part of a self care routine.
This product is not intended to treat, cure, or prevent any disease. Store in a cool, dry place. For external use only. Avoid prolonged sun exposure for up to 8 hours after applying. Avoid contact with eyes and use around the under-eye area. Keep out of reach from children and pets. If pregnant or breastfeeding, please consult a doctor. Keep away from heat. Do not dilute. If irritation occurs, stop use. This product derived from Hemp has not been tested, analyzed, or approved by the Massachusetts Department of Agricultural Resources or the FDA.
Return Policy
ALL SALES ARE FINAL. If there are any issues, please reach out to us at info@thehealingroseco.com, and we will do our best to make it right.
Allergen Warning
This product may contain tree nuts. The FDA classifies Coconut Oil & Shea Butter as tree nut oils. If you have a tree nut allergy, consider talking to your doctor.
Excellent cure for knee pain
The 4x CBD Salve 1,00 mg, used twice a day, completely alleviates bilateral knee pain. It's a miracle cure for a condition that previously woke me from a sound sleep. Thank you!!
Relief in a jar!!
I really love this product as it is the only salve that actually works to relieve the pain in my joints from arthritis. Thank you Healing Rose for offering this superior product!
Very efficient
It's mostly used by my wife for back and leg pain. No other CBD product had such a steady and strong effect. Really healing stuff 😊!
Awww!
The Healing Rose Salve gives amazing relief on joint pain and sore muscles!! I love that its all natural.
Sore Knees and Shoulders
This product provides consistent joint pain relief. I've recommended the salve to my family and friends with chronic pain and arthritis.
This error message is only visible to WordPress admins
Error: There is no connected account for the user 17841404124095027.