Body
Organic Orange Lavender w/ Chamomile 1X Herbal Salve (300mg CBD)
Sale!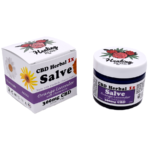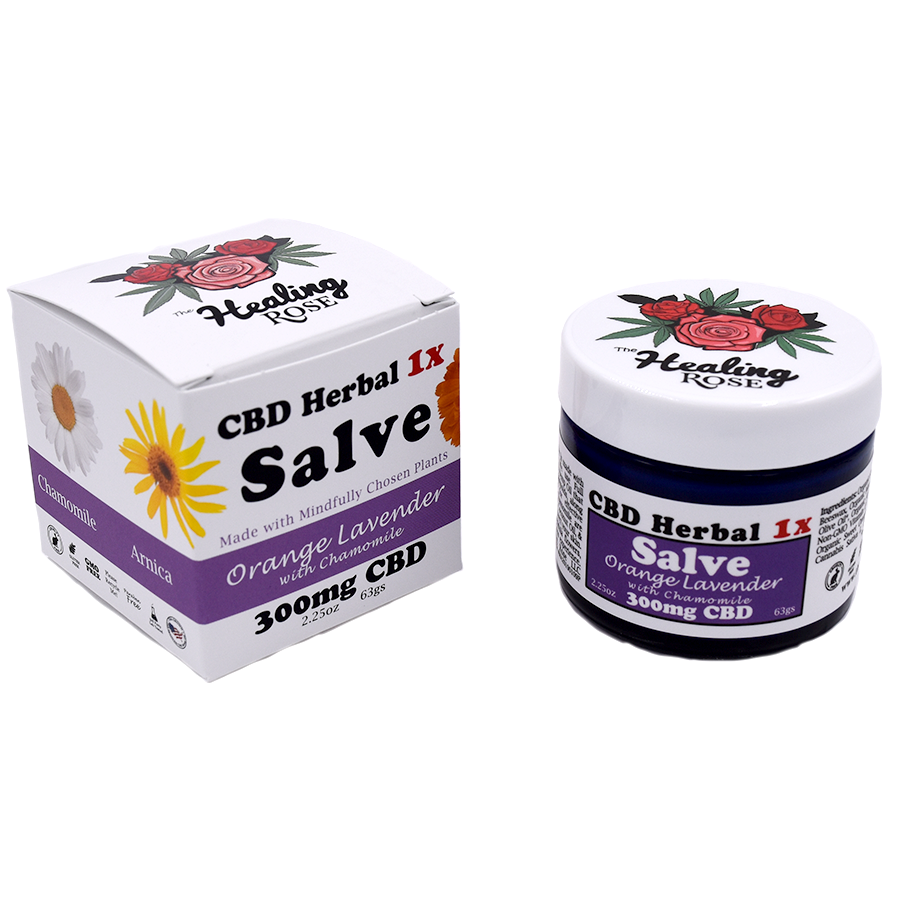 Body
Organic Orange Lavender w/ Chamomile 1X Herbal Salve (300mg CBD)
$40.00
Made with 13 Mindfully Chosen Ingredients
1. Organic Shea Butter
2. Organic Coconut Oil
3. Organic Beeswax
4. Organic Mango Butter
5. Organic Jojoba Oil*
6. Organic Olive Oil*
7. Organic Arnica Extract
8. Organic Calendula Extract
9.Organic Full Spectrum CBD CO2 Extract
10. Non-GMO Vitamin E Oil
11. Organic Lavender Oil
12. Organic Sweet Orange Oil
13. Organic Chamomile Oil
*Indicates an Unrefined Oil
Support Your Body with a Calming & Relaxing Blend of Botanicals
Our 300mg CBD salve with Orange Lavender and Chamomile is made with mindful, purposefully chosen ingredients. We use 100% organic carrier oils, essential oils, butters, waxes, & herbs that are responsibly sourced. We use a powerful combination of botanicals: Arnica, Calendula, Lavender, Chamomile, and Sweet Orange along with 300mg of CBD from a full spectrum CBD hemp extract. 
We encourage everyone to do their own independent research on each of our ingredients and their benefits. We handcraft our salves in small batches to ensure a perfect consistency. It feels amazing on your skin and smells wonderful. This formula has a blissful Lavender scent, with a hint of sweet orange and chamomile.
Each Salve comes with a reusable applicator to make using the product quick and easy.
Ingredients
Organic Shea Butter (Butyrospermum Parkii), Organic Coconut Oil (Cocos Nucifera), Organic Beeswax (Cera Flava), Organic Mango Butter (Mangifera Indica), Organic Jojoba Oil* (Simmondsia Chinensis), Organic Olive Oil* (Olea Europaea), Organic Arnica Extract (Arnica Montana), Organic Calendula Extract (Calendula Officinalis), Organic Full Spectrum CBD CO2 Hemp Oil (Cannabis Sativa L.), Non-GMO Vitamin E Oil (Tocopherol), Organic Lavender Oil (Lavandula Angustifolia), Organic Sweet Orange Oil (Citrus Sinensis),  Organic Roman Chamomile Oil (Anthemis Nobilis)
*Indicates an Unrefined Oil
Suggested Uses:
Daily Self Care for Joints & Muscles
Soothe Dry, Irritated Sensitive Skin
Directions:
Use pea-shaped amounts on desired areas 1-3 times a day or as needed. Massage into skin and allow oils to absorb. Adjust amount and frequency based on experience. For best results, use daily as part of a self care routine.
This product is not intended to treat, cure, or prevent any disease. Store in a cool, dry place. For external use only. Keep out of reach from children and pets. If pregnant or breastfeeding, please consult a doctor. Keep away from heat. Do not dilute. If irritation occurs, stop use. This product derived from Hemp has not been tested, analyzed, or approved by the Massachusetts Department of Agricultural Resources or the FDA.
Return Policy
ALL SALES ARE FINAL. If there are any issues, please reach out to us at info@thehealingroseco.com, and we will do our best to make it right.
Allergen Warning
This product may contain tree nuts. The FDA classifies Coconut Oil & Shea Butter as tree nut oils. If you have a tree nut allergy, consider talking to your doctor.
Actually WORKS!
I already liked this company for their cbd tincture, and lip balm! When my husband got the salve I was interested but wasn't convinced it would actually do anything. I've had lower back pain since I was a teen. most days It's a dull pain I've learned to deal with, some days/nights it's unbearable. I was hurting BAD last night and tasked him to try it on my lower back as there was no chance of placebo effect. Not only did it put me to sleep (no nighttime tincture needed) but I had the best nights sleep of my life and no pain at all in my back the entire next day! I can't wait to try the 4x strength!
Love your salve.
Thank you for making a slave that works.